Texas or Bust... Or Boom!
So I'm gearing up for the 12 hour drive to Texas tomorrow. I had a bit of a rough day yesterday with a scene I've been working on for too long, but I was comforted. A classmate informed me that if I feel bad now, all I have to do is wait until Friday as I'm watching one of the best in the business talk about animation. That should keep me from thinking too highly of my own work. I'll be taking good notes at the
Bobby Beck Masterclass
and I will be sure to share my notes from the conference as well.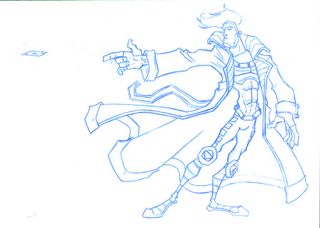 In keeping with what I think will be a tradition on this site for a while at least, here's the new drawing I've been working on. The painting is almost done, but this is what I'm working from. I'm attempting to pull off something a little more stylized with the paint this time. It should look different than the last one... if my hand stops cramping up, I just grip that stylus so darn tight.
-Drew